Inch CI: The first month
It has been a month since Inch CI started. Or at least it has been a month since I thought "Inch CI is ready now" and @sferik tweeted this after discovering it:
Looks like http://t.co/EEr2omxJVg is official open to the public. Plus, it's all open source: https://t.co/RK5IwYFA7P. Nice work by @rrrene.

— Erik Michaels-Ober (@sferik) June 5, 2014
From there, the ride started:
"You need one more badge in your README." After test coverage, now track *inline doc* coverage, with InchCI — http://t.co/sgY33lor0R

— ChristophePorteneuve (@porteneuve) June 17, 2014
@rrrene I've gotta say that Inch CI is great. Loving the easy to digest encouragement to produce better documentation. Great work!

— James Thompson (@plainprogrammer) June 20, 2014
open source your startup! we'll give you @travisci, @codeclimate, @CoverallsApp, @testling, @InchCI and @waffleio for free.

— Hrvoje Šimić (@shimeasaservice) June 27, 2014
"Inch CI - Documentation badges for Ruby projects - Show off your docs" http://t.co/UyBchvYGJw

— くろ (@closer009) June 30, 2014
For those who haven't checked it out yet: Inch CI is a project to raise the visibility of inline code documentation in Ruby projects: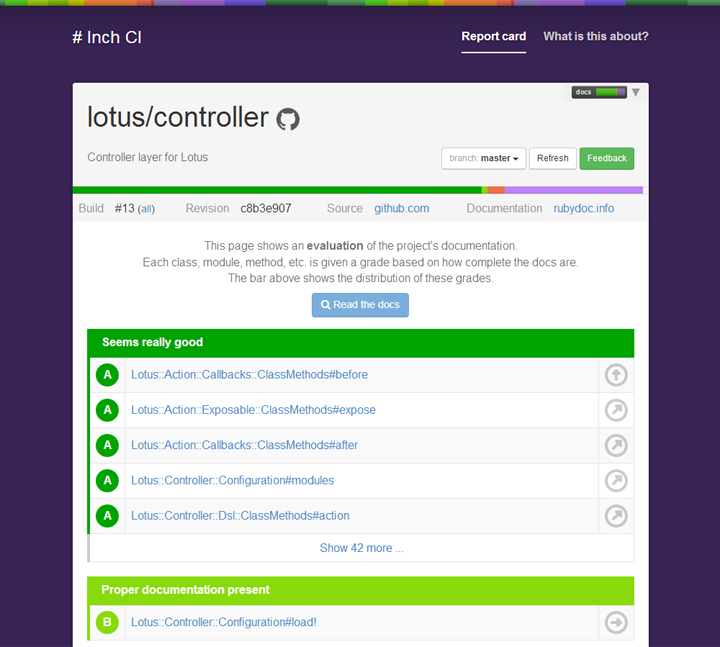 It provides a badge to show potential contributors that the project is documented:

As of this writing over a hundred projects have joined and are sporting these badges in their repos.
The interest in the project is steady and the general response has been overwhelmingly positive, for which I am very grateful. I had lots of insightful discussions with you folks and most of them have let to changes that made Inch better. I sincerely hope we can continue to do so.
You can find me on Twitter, create an issue in the Inch CI project or simply email me (mail in Github profile).